180 miles, all For the Kids.
This post was submitted by Leah Peecook for Children's Miracle Network Hospitals through childrensmiraclenetworkhospitals.org/guest-post. 
Yes, you read that correctly, 180 miles. At Bowling Green State University we have a one of a kind experience within our Dance Marathon. Our students have the opportunity to participate in a 180-mile bike ride all FOR THE KIDS! Bike for Tikes is a part of Dance Marathon at BGSU and we are so proud of it. We bike through trails, towns, and sometimes cities, to get back to BGSU. Students must fundraise a set amount to be able to hold their spot on the bike ride. After working all year to raise that money, the bike ride is most students favorite weekend of the year.
I am one of the few BGSU students who has gotten a 3-way look at our 180 miles, 3-day event, called Bike for Tikes, benefiting Mercy Children's Hospital. I first got the opportunity to participate in the ride, I was then chosen for the Core leadership team, I am currently serving as the Bike for Tikes Overall Chair. Each year I bike 180 miles, For The Kids, I think I know what I am getting myself into. I am so wrong.
On my first ride, I was only a sophomore who, after months of training, was in pretty good shape considering I was about to bike 180 miles over 2.5 days. Or so I thought. Waking up, I attached my picture of my team's Miracle Child to my bike, tighten my helmet, and I prepare myself for the day. After that first 15 miles, I thought I was done for. My legs hurt, my arms were sore, I was sleepy, and I just could not wait until we got to our next stop so I could rest. But then, I looked down at my bike handlebars. As I was feeling sorry for myself and my sore body I saw a picture of my team's Miracle Child, Dylan.
It finally hits me.
This 'pain' is FOR Dylan. This pain is FOR THE KIDS who wish they could bike 180 miles. This pain is FOR THE KIDS who wish to sleep in their own bed at home. I started crying, yes, while riding my bike. This ride was no longer about me. This ride has nothing to do with me honestly. This 180-mile bike ride is for Dylan, FOR THE KIDS. Check out this picture to see me at a resting stop having just completed mile 157 of 180 for Dylan.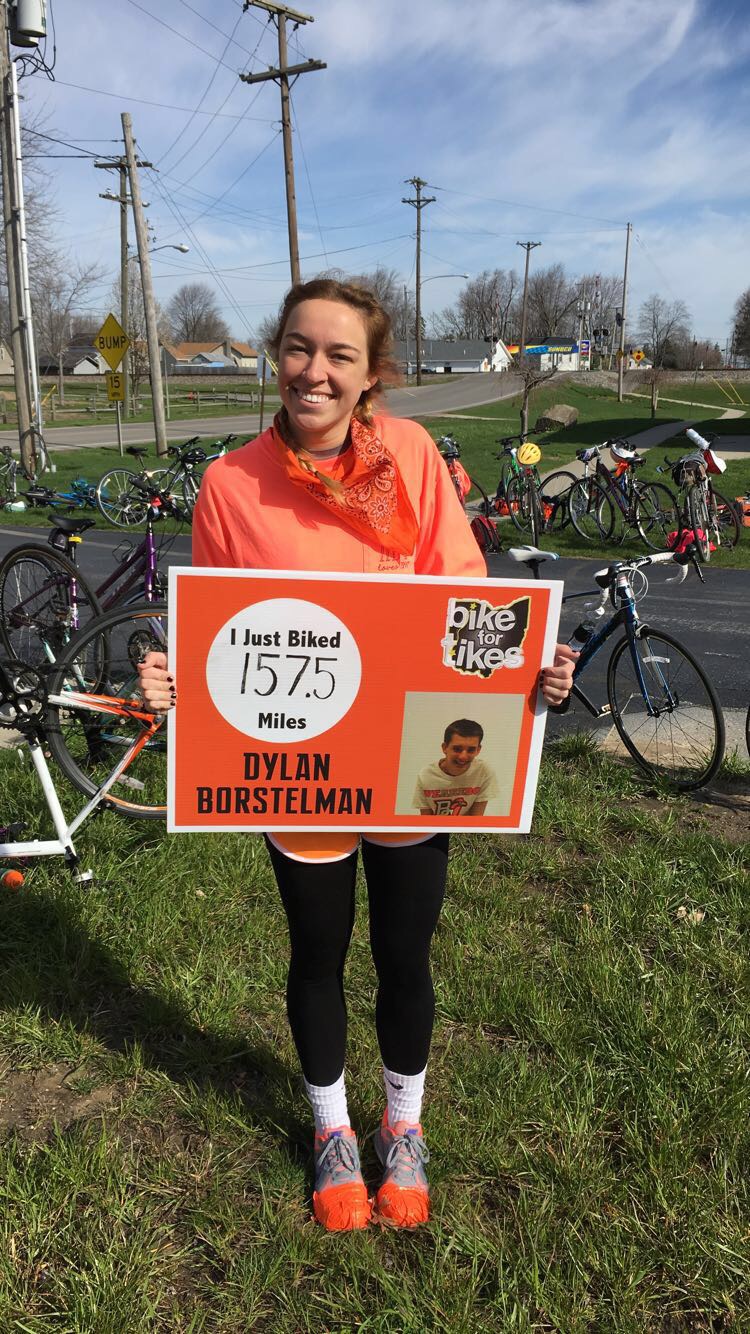 There is no feeling that can ever compare to the one I had while on that second leg of my first ride, at realizing what this ride is about. This is when I found my Dance Marathon inspiration. With each mile biked, a new miracle is made possible.
My second year as a biker, while I am pushing my donor drive and trying to raise as much money as I can For The Kids, we receive heart-wrenching news. One of our miracle children has lost her life. Kalie was no longer with us. While this was heartbreaking and extremely difficult to wrap my head around, I pushed harder. I used my talents to move up the leadership chain and was selected for the Core leadership team for the ride. Meetings after meetings, planning, planning, and planning some more. Then it hit me again. That feeling I had after mile 15 on my first ride. This is what Dance Marathon is about. Mile after mile, meeting after meeting, it is all For The Kids. This realization hit me (again!) and the meetings became something I looked forward to, I LOVED spending my extra weekends, days, even hours, preparing for this incredible 180-mile bike ride, For The Kids. The meetings continued, the biking training continued. Finally, it was the day to leave for the ride!
Then we got more bad news. – The ride was canceled. It was too cold, too rainy, too dangerous. The university could not send 150 college students out to bike across the state of Ohio.
I was heartbroken. All of our hard work, gone. Our countless hours of planning, gone. The best weekend of the year, gone. I could not stop crying. I could not stop blaming everyone. I could not stop the feelings. Then I walked past a bike. A bike with Kalie's picture card on it. And then the feeling was back. WHAT was I doing?! (Being selfish is the answer.) This is FOR THE KIDS. Kalie's picture card made me put my feet back on the ground and think logically again. It was going to be okay. Our fundraising efforts were still going to help save kids. But still, that was not enough for me. So, I spoke up. I spoke up to my Core leadership team, I stood up to the current Chairs, I spoke my opinion to our university advisors. I wanted to bike. I needed to bike.
So we biked. Bikers were given the option to ride the trails around our campus, the student rec center opened its cycling studios to us, we BIKED. We biked 180 miles. We did it. Mile after mile, we found a way to bike our miles.
All bikers received a card with Kalie's picture on it to put on our bikes. To remember why we keep biking mile after mile. These miles were for you Kalie. We love you and we miss you.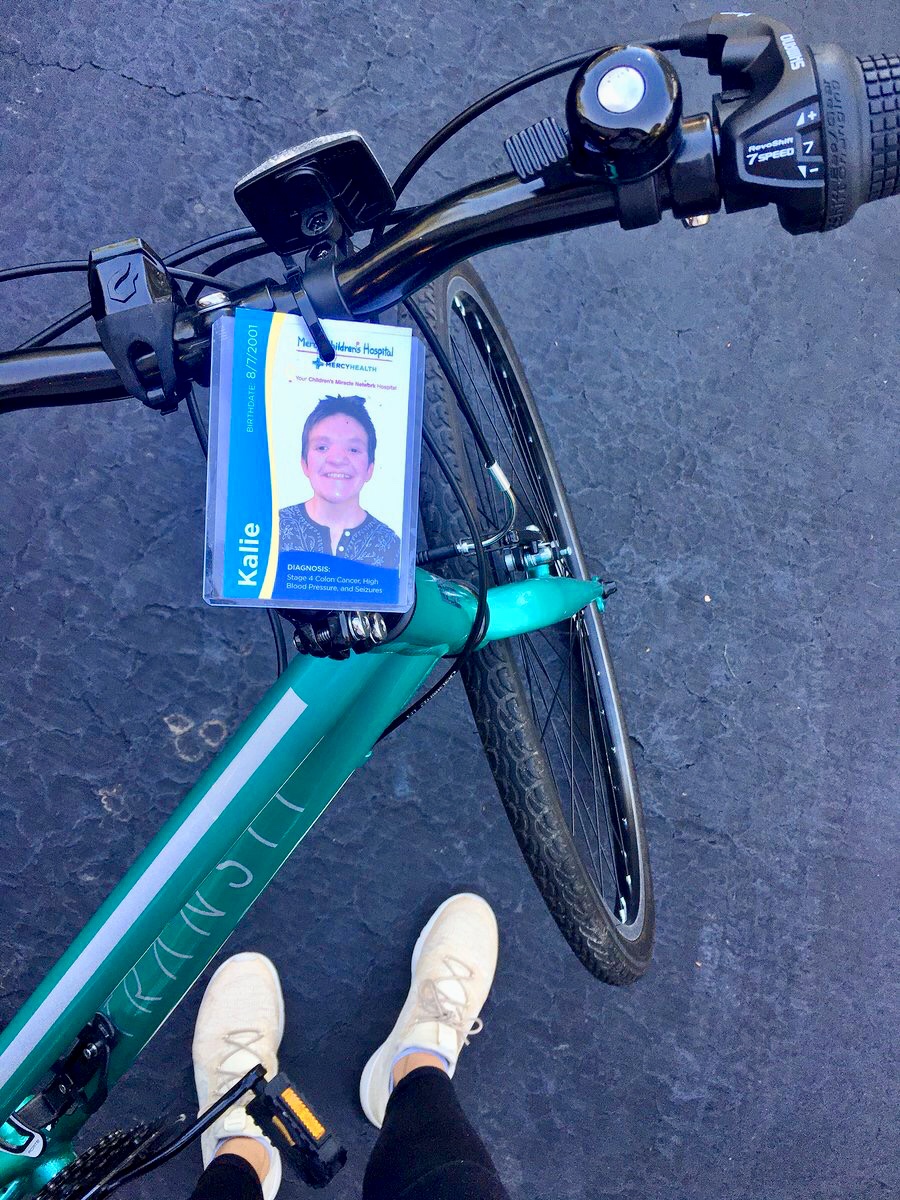 This April I will go on my last Bike for Tikes ride. I am excited, anxious, thankful, and inspired. We all say we do this For The Kids. But I think the kids give us a little something too. A little something to smile about, a little something to think about, and a little something to be a part of. I am inspired by our miracle children and I know that the miles on my bike are what I need to do.
Our 150 college students who fundraise all year long to: go on this bike ride, become a part of our organization, and most importantly, to fundraise For The Kids; are unlike any other group of people I have come across. I feel honored and humbled to be this year's Bike for Tikes Chair and I hope that my miles being my inspiration are enough to push just one more college student to become a piece of our legacy, our organization, our miracles.
Leah is a fourth-year participant in Dance Marathon. After standing for 24 hours and 360 miles of biking, it's time to share her story.