Children's Miracle Network Hospitals has enjoyed celebrity support since the beginning. In fact, we were founded in 1983 by two celebrities: John Schneider and Marie Osmond. Since that time, hundreds of celebrities have offered their support in a variety of ways. Our celebrity partners visit our children's hospitals, record PSAs, attend events, use social media to raise awareness and funds, support Children's Hospitals Week from March 18th-22ndand –most importantly –help spread the message of Children's Miracle Network Hospitals. We are so grateful for these amazing partners!
Founders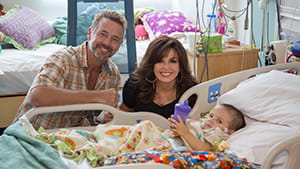 In 1983, celebrities Marie Osmond and John Schneider founded Children's Miracle Network Hospitals by organizing a telethon that raised nearly $4.8 million for children's hospitals. Marie and John both continue to support sick and injured kids treated at 170 member hospitals through hospital visits, event participation, and so much more!
Click on the celebrities below to learn more about them.
Adam DeVine
Katy Perry
Chris Pine
Jack Nicklaus
Jennifer Lopez
Kristen Bell
Rainn Wilson
Amy Poehler
Steve Young
Zendaya
Become a Celebrity Partner
Hospital Visits
Visits from friends, family and other supporters are an important part of the healing process for many sick and injured kids treated at children's hospitals all over North America. A visit from a celebrity is an exciting and heart-warming highlight for our patients who may be restricted in their activities or in need of extra encouragement and support. Interested celebrities can contact us below to schedule a hospital visit.
Social Media Support
We have various fundraising campaigns throughout the year that celebrities can support. These fundraising campaigns give money back to the local community's children's hospital to give kids the quality treatment they deserve. We believe in giving celebrities the freedom to create content authentic to the brand of their personal social channels when posting about CMN Hospitals events. We can provide suggested content to support the campaigns below.
Online Fundraising
Celebrities have the opportunity to raise funds online by donating an autographed item, doing a Facebook fundraiser, and partnering with CMN Hospitals by starting an Omaze campaign.
Untold Miracles Podcast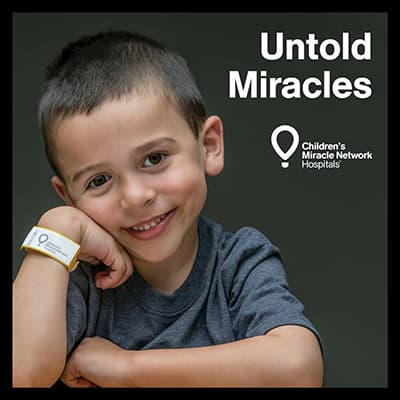 How do you define a Miracle?
In Untold Miracles Podcast, celebrities, thought leaders and influential kids, answer the question: How do you define a Miracle? In conversations with Kelli Davis, head of celebrity relations for Children's Miracle Network Hospitals, guests share the miracles they've witnessed, created and benefited from — much like the Miracles that happen every day in children's hospitals — while dishing on the latest news in their lives. Listen on
iTunes
,
Google Play
,
Spotify
or by visiting
UntoldMiracles.org
.
Subscribe to Our Newsletter
Click here
to subscribe to our Celebrity Newsletter to stay up with the latest Children's Miracle Network Hospitals celebrity news, events, and stories.
Children's Miracle Network Hospitals® raises funds and awareness for 170 member hospitals that provide 32 million treatments each year to kids across the U.S. and Canada. Donations stay local to fund critical treatments and healthcare services, pediatric medical equipment and charitable care. Since 1983, Children's Miracle Network Hospitals has raised more than 7 billion dollars, most of it $1 at a time through the charity's Miracle Balloon icon. Its various fundraising partners and programs support the nonprofit's mission to save and improve the lives of as many children as possible. Find out why children's hospitals need community support, identify your member hospital and learn how you can Put Your Money Where the Miracles Are, at
CMNHospitals.org
and
facebook.com/CMNHospitals
.