CometTHON at The University of Texas at Dallas Celebrates a Record-Setting Fundraising Total
Written By Rachel Kyes, President of CometTHON
Entering into the role of President in April of 2016, I was daunted by the task that lay ahead. As we planned for the year after the 2016 event, we decided to set a goal of $25,000 to challenge ourselves, with all the funds going to pediatric cancer research at Children's Medical Center in Dallas. Just one week before our event, we were nowhere close to hitting that goal, but during the final fundraising week the campus rallied together and achieved something amazing. We raised a grand total of $31,864.01, and nearly $6,500 was raised on Friday night alone!
Throughout the event, our dancers and Miracle Families were engaged in a variety of activities. We had 339 dancers register for the event, and over 265 attended throughout the night. During the "Love's Travel Stops & Country Stores" recognition hour, we heard from Tony Easterling, the Love's Representative who attended our event, and from two Miracle Families, one of whom Mr. Easterling had the opportunity to introduce. Dancers had the chance to interact with the Miracle Families in attendance during this hour, playing giant Twister and giant Jenga and getting their faces painted with Shayna and Sadie, two of our Miracle Kids. Dancers also participated in Minute-to-Win-It games like "Cookie Face" that engaged the color teams we had separated the dancers into. These teams—red, blue, and green—competed in events later as well during Olympics hour that were a build-up to the final Rave hour and helped to hype dancers up when they were nearing the end of the event. Multiple hours consisted of free dancing time and time to participate in several "stations" we had set up like the giant Jenga and Twister sets.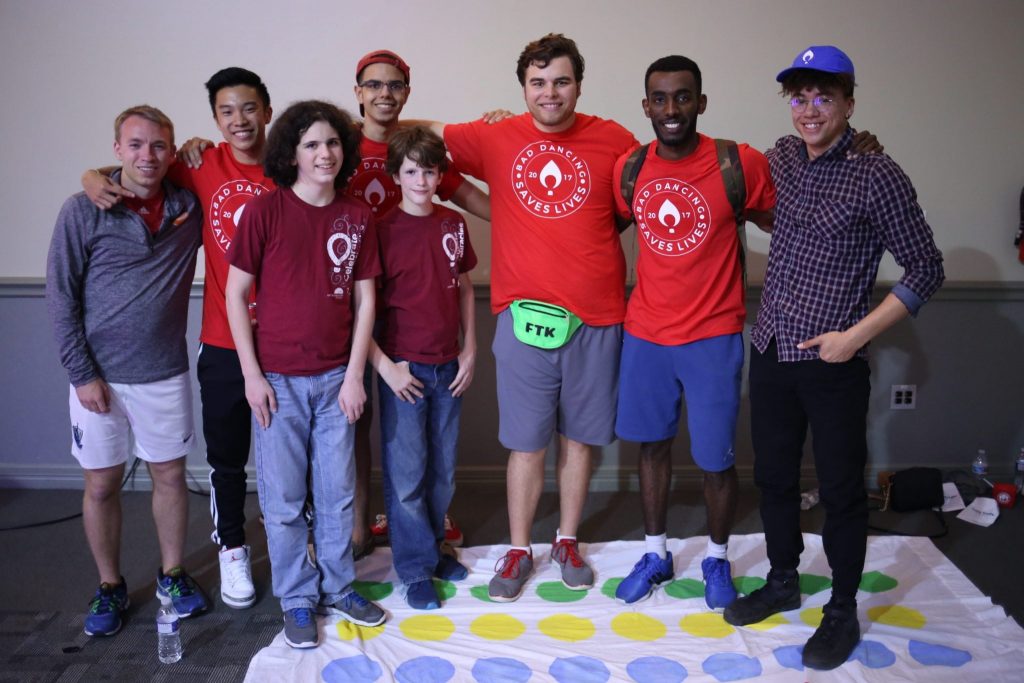 Multiple dance groups attended the event including a members of Dancing for a Cause, the African Student Union, and a ballet troupe, of which one of our Miracle Kids is a part of. After their group performed, our Miracle Kid Shayna decided that she wanted to dance as well, and joined the morale team onstage as they taught the Throwback hour morale dance. This was a really neat way for the Morale Team and the dancers as a whole group to interact with a Miracle Kid, and we are so blessed to have gotten that opportunity!
When we revealed our total, the room erupted in cheers. Our Executive Team could not believe what we accomplished and the dancers who stayed until midnight were thrilled to be a part of the event. Multiple dancers and team captains stopped me afterward the "Countdown to Sit-down" to say how much they loved the event. It was inspiring to see how many dancers interacted with the Miracle Kids during the event, something missing from most of the 2016 event. One special moment occurred when the daughter of one of the dancers joined a Miracle Kid on stage to help her stage fright and they had a cute moment giving each other high-fives. Our event was exceptional because of moments like this, moments when dancers and Miracle Families were celebrating the lives of children at Children's side by side. It was awesome to see the campus joined together in support of one amazing cause and I consider myself blessed to have been involved!