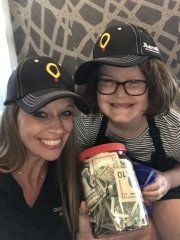 Raising a Mug for Miracles
Our Bangor Marriott partners at the Courtyard and TownePlace Suites team up to make miracles happen for Maine kids!
Marriott International holds the honorable distinction of being Children's Miracle Network Hospitals' longest standing corporate partner. Since 1983, Marriott has raised more than $135 million for children's hospitals across the United States and Canada, including Northern Light Eastern Maine Medical Center. For the last couple of years, the Courtyard by Marriott and the Marriott TownePlace Suites in Bangor have helped to change kids' health and change the future by hosting Root Beer Float Week. Root beer floats have a special place in Marriott's history. The company got its start in 1927 as a root beer float stand. And, while 2020 hasn't been what we had imagined, we'd still like to do our part to make sure Maine kids receive the very best care, as close to home as Bangor. Help us celebrate Marriott, the better days ahead with hotels and restaurants reopening, summer in Maine, and our commitment to our community. Enjoy a root beer float - we like ours with A and W Root Beer, a whole lot of vanilla ice cream, a dollop of whip cream, chocolate shavings, and a cherry on the top - and if you can, please consider making a gift to Northern Light Eastern Maine Medical Center, our local Children's Miracle Network Hospital. More than 45,000 kids from across eastern and northern Maine receive care locally. Every penny raised helps to ensure doctors and nurses have the life-saving treatments, specialized medical equipment, and advanced training needed to care for these kids and their families. Thank you, and cheers!
Donations Go To
Northern Light Eastern Maine Medical Center