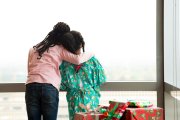 Fitzsimons Credit Union - Children's Hospital Colorado
Help us bring comfort & joy to families this season.
Here, your generosity helps patients and families experience home for the holidays. Every child deserves to experience the magic of the holiday season. But hundreds of patients and their families spend the holidays at Children's Hospital Colorado every year. From bringing joy to a child's hospital room with toy deliveries and decorations to providing hope for new treatments and cures, your generous support brings comfort and joy. We are proud to announce that through the month of December, Fitzsimons Credit Union will be collecting donations for Children's Hospital Colorado and the best part is that your donations will go even further this year because we will match every donation dollar for dollar*. *Donations will be matched until we max out our matching contribution fund of $2,500.
Donations Go To
Children's Hospital Colorado