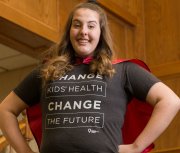 MacKenzie Schors
2nd Annual MacKenzie's Miles for Miracles
Hi! My name is MacKenzie. I am a 15-year old from East Machias, and I am honored to be the Children's Miracle Network Hospitals' champion for Northern Light Eastern Maine Medical Center.
On Saturday, August 28, I will be hosting my 2nd Annual Miles for Miracles fundraiser to raise funds and awareness for Eastern Maine Medical Center's Children's Miracle Network Hospitals' program. Eastern Maine Medical Center cares for more than 50,000 kids each year - I was on of them! The team in the neonatal intensive care unit saved my life when I was born 12 weeks early.
MacKenzie's Miles for Miracles is a 10-mile bike ride - runners and walkers are welcome to join - that starts on the Downeast Sunrise Trail behind Archibald's in East Machias at 9 am. Every donation received will stay in Maine to help kids like me. These donations will change kids' health, and they'll change the future.
Questions? Concerns? Please click here to visit our event on FB.
Donations Go To
Northern Light Eastern Maine Medical Center