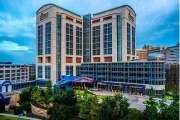 Mental Health Initiative
Children in our community need us!
North Texas is the home to nearly 2,000,000 children. Approximately 600,000 (30%) of these children have mental health needs—175,000 children in Dallas County alone! Children's Health is eager to expand its services to this population, but we need your support to maximize our impact. Please consider partnering with us to support this crucial initiative, which will help us ensure that our children have the mental health resources they need.
Donations Go To
Children's Health