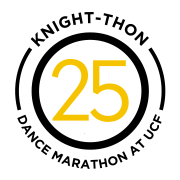 Knight-Thon Alumni Giving Page
Support UCF Knight-Thon Today!
Since 1997, Knight-Thon at the University of Central Florida has raised more than $7 million for Children's Miracle Network Hospitals. This would not have been possible without our fellow Knight-Thon alumni. Your past efforts have helped shape Knight-Thon as an organization and create a brighter future for more than 135,000 patients treated at our hospital each year. In celebration of Knight-Thon's 25th year, we are excited to share a new way to support Orlando Health Arnold Palmer Hospital for Children. By contributing to our Knight-Thon Alumni Giving Fund, your donation will be used to support current Knight-Thon participants as they continue to fight for the future of pediatric healthcare in Central Florida. In an effort to say thank you for your gift, our goal is to publicly recognize your contribution for our participants. Should you like to remain anonymous, please select the box to remain private when donating. Thank you so much for your contribution to our UCF participants and Dance Marathon program. We hope to continue the incredible legacy created by each of our past alumni. We thank you for your continued support For The Kids and for the future generation of Knights to come.
Donations Go To
Orlando Health Arnold Palmer Hospital for Children