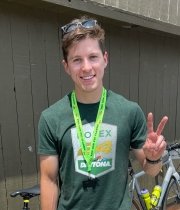 On June 3, 2023, I will be racing 100 miles in Emporia, Kansas as part of the Garmin Unbound Gravel event. After bike racing for the past two years, this will be my longest event to date. I anticipate that it will require about 6 hours on the bike to complete the course. To get through the mental challenge of such a long event, I am racing not only for my own result, but also to raise funds for Beaumont Children's Hospital.
I have seen firsthand the tremendous impact that Beaumont has in my hometown community of Southeast Michigan. In 2013, my sister, Mia, had an accident on her bicycle and underwent an emergency craniotomy at Beaumont Children's in Southeast Michigan. Thanks to the medical team at Beaumont, she has been able to live a full life and is now a thriving college student aspiring to work in psychology/counseling.
The programs and services at Beaumont Children's are provided vital funding through Children's Miracle Network (CMN). Specifically, CMN donations help fund pediatric programs and services, pediatric equipment, and scholarships for families struggling to afford care. Importantly, 100% of every dollar raised for a specific hospital, such as Beaumont, stays local. ​
I would greatly appreciate your support in furthering the cause of CMN and Beaumont Children's so that families can continue to receive life-changing care at Beaumont in Southeast Michigan.
Thank you for considering a donation to my fundraising campaign and for joining me in supporting Beaumont Children's.
For more information on CMN at Beaumont Children's, please visit:
https://www.beaumont.org/services/childrens/about/childrens-miracle-network​
Donations Go To
Beaumont Children's