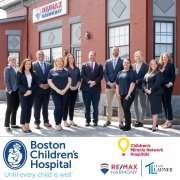 Support Boston Children's Hospital
RE/MAX Harmony is proud of our Partnership with the Children's Miracle Network!
We are honored to participate in the now 30+ year partnership between RE/MAX and the Childen's Miracle Network. As you may know, a portion of each Team Ladner listing is donated to our local CMN Hospital, Boston Children's Hospital. Your generosity has a direct impact on kids' health and we are grateful!



Donations Go To
Boston Children's Hospital