40 Years of dedication to kids and their families
Children's Miracle Network Hospitals® raises funds and awareness for 170 member hospitals that provide 32 million treatments each year to kids across the U.S. and Canada. Donations stay local to fund critical treatments and healthcare services, pediatric medical equipment and charitable care. Since 1983, Children's Miracle Network Hospitals has raised more than 7 billion dollars, most of it $1 at a time through the charity's Miracle Balloon icon. Its various fundraising partners and programs support the nonprofit's mission to save and improve the lives of as many children as possible.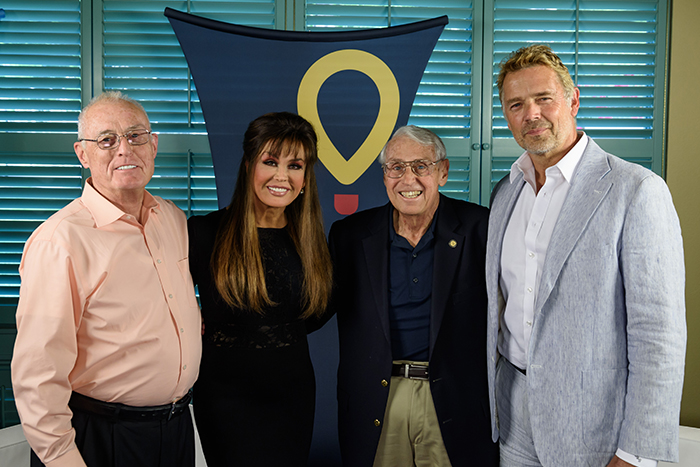 In 1977 Mick Shannon was hired as the Executive Director of The Utah March of Dimes. The Utah Chapter was one of the best in the country.
One of the chapters' premier events was a very successful local telethon. One of the most successful and nationally respected TV stations in the country, KSL TV, was the driving force.
After 3 years, working with two young, talented KSL producers, Al Henderson, and Mike Mischler, Mick became convinced the quality and production values were better than any of the National telethons of the time—better than the Jerry Lewis Muscular Dystrophy Telethon and better than the Easter Seals Telethon.
Mick saw that grander vision of what this broadcast could become with very little additional investment; simply feed it to the March of Dimes chapters and TV stations all over the country. Mick met with Al and Mike seeking their thoughts and reactions. They were excited. Mick then met with two of the most respected broadcasters in the country Arch Madsen (President of Bonneville International) and Jay Lloyd (General Manager of Bonneville's KSL TV). After all, it was their Telethon. They suggested the concept seemed practical and achievable, generously offering to donate satellite time and uplink.
Mick then decided to test the concept. He needed help and sought out Joe Lake, a March of Dimes volunteer and one of the most impressive and talented people he had ever met. Joe had an extensive background in the entertainment industry and had many connections with celebrities. Joe agreed to partner with Mick for the March of Dimes.
They were convinced the best celebrities to host the telethon were John Schneider and Marie Osmond. Both Starred in their own hit TV shows, Both enjoyed very successful recording careers. Their images and reputations had always been impeccable. They appeared on countless magazine covers, talk shows, and awards shows. Having John and Marie agree to lead the effort was a miracle.
Joe and Mick set out to recruit local March of Dimes chapters and TV stations to participate in this test. Ten chapters signed up, it was a very successful event.
They prepared a comprehensive proposal to present to the national March of Dimes leadership in New York. They were impressed with our work, however, they asked us to move to Los Angeles and produce a Hollywood-based telethon. Essentially everything they had built was rejected, and to say the least, it was a long flight home.
Unable to sleep that night, Mick got out of bed and went down to his kitchen table. Eight hours later, the kitchen floor covered with wadded up yellow legal pad paper, Mick knew he had it! The Children's Miracle Network was conceived. The basic, simple, business model, and financial model seemed powerful. Mick called Joe and immediately drove over to his house. With no funding, and no prospect of ever getting paid, Joe embraced the NEW VISION, and they were ready to GO. No Joe, no Children's Miracle Network!
Upon hearing of the rejection, and subsequent NEW VISION, Mike Gursey, John's manager flew to Utah to hear it for himself. After that meeting John was so excited to spearhead this new effort that he resigned from the March of Dimes. No John, no Children's Miracle Network!
Mick and Joe were so anxious to then get to Marie that they called her manager to assess her availability. She was in Provo, They were able to meet with Marie at the Studios, she too caught the NEW VISION, and agreed to lead the effort to build Children's Miracle Network. No Marie, no Children's Miracle Network!
Joe arranged a meeting with Bill Critchfield, then President of the Osmond Studios, a world class facility, and the family agreed to do the first Children's Miracle Network Telethon, at the studios, which gave immediate credibility. They then added Merlin Olsen and Marilyn McCoo as co-hosts for this 21 hour telethon—the absolute dream team. Thus, the Children's Miracle Network was born.
Mick, Joe, John and Marie dedicated their lives to traveling extensively recruiting hospitals, TV stations, and sponsors, always putting kids first! 37 years and $7,000,000,000 later they had made the world a much better place.
HERE IS WHAT THE 4 OF THEM AGREED ON
A NETWORK OF MEMBER CHILDREN'S HOSPITALS
A NETWORK OF TELEVISION STATIONS
FOUNDING PRINCIPLES
100% OF PROCEEDS WOULD STAY LOCAL TO BENEFIT LOCAL HOSPITALS AND KIDS
KIDS FIRST AND ALWAYS
MAINTAIN THE LOWEST COST RATIO POSSIBLE
DIGNITY AND CLASS …NEVER EXPLOITING SICK OR INJURED KIDS
Children's Miracle Network Telethon 1983
The Osmond Family (Osmond Studios)
$300,000
Brett Hutchens & Duffs restaurants
$150,000
Bill Marriott (free hotel rooms)
$100,000
Linda Dozier Western Airlines (free airfare)
$100,000
Bonneville Broadcasting (satellite time)
$90,000
Bonneville Broadcasting (satellite uplink)
$25,000
Gary Sheets finally (salary for Mick and Joe)
$50,000
Brighton Bank (office space)
$25,000
These truly amazing people and donations made the MIRACLE HAPPEN. Without them, there would be no Children's Miracle Network today.
---
Mick Shannon
---
Joseph G. Lake
---
John Schneider
---
Marie Osmond
Read More

1983 - CMN HOSPITALS WELCOMES MARRIOTT INTERNATIONAL

Children's Miracle Network Hospitals welcomes Marriott International as a fundraising partner, creating the longest standing partnership to date and more than $80 million in support of our mission to save kids' lives. Today, Marriott International and Marriott Vacation Club raise funds and awareness through a year-round breakfast campaign, golf tournaments and associate programs.

Read More

1983 - A TELETHON AIRS

A Telethon airs from Osmond Studios in Orem, Utah raising nearly $4.8 million for 22 children's hospitals leading to the founding of Children's Miracle Network Hospitals by Marie Osmond, John Schneider, Mick Shannon and Joe Lake. The Telethon remains a key fundraiser today in more than 50 U.S. and Canadian markets.

Read More

1984 - DAIRY QUEEN BECOMES A PARTNER

Dairy Queen becomes an official corporate partner. In more recent years, Miracle Treat Day has become a favorite tradition for CMN Hospitals supporters. Who could turn down a Blizzard® Treat when $1 or more from each sold goes to help save and improve kids' lives?

Read More

1986 - MIRACLE BALLOONS ARE BORN

After being told "no" over and over by other business owners, Eleanor Lancey, a hospital employee, convinces O'Rourke's Diner in Middletown, CT to sell paper balloons bearing the hospital's name in exchange for donations. Thirty years later, Miracle Balloons account for $88 million each year.

Read More

1987 - WALMART AND SAM'S CLUB BEGIN FUNDRAISING

The start of more than half a billion miracles: Walmart and Sam's Club begin fundraising for Children's Miracle Network Hospitals, resulting in $650 million+ raised to-date at more than 5,000 stores and warehouse clubs across North America. That equates to roughly 670,000 new pediatric wheelchairs, or 54 30-suite NICU wings!

Read More

1987 - JOHNS HOPKINS CHILDREN'S CENTER MAKES HISTORY

Doctors at member hospital Johns Hopkins Children's Center make medical history by successfully separating conjoined twins. The 50-member surgical team worked for 22 hours. CMN Hospitals funds are often used by hospitals to pay for equipment used in life-changing surgeries.

Read More

1987 - PARTNERSHIP WITH MCLANE COMPANY

40 distribution centers, one common mission: to raise funds for local hospitals. Supply chain services giant McLane Company joins forces with Children's Miracle Network Hospitals, helping raise more than $70 million through a variety of grassroots fundraisers, golf tournaments and other events.

Read More

1988 - COSTCO BEGINS FUNDRAISING FOR SEATTLE CHILDREN'S HOSPITAL

Issaquah, Washington-based Costco Wholesale begins fundraising for Seattle Children's Hospital. The partnership grows to warehouses and member hospitals across the United States and Canada, having since raised more than $180 million — or the cost of about 640 custom pediatric ambulances!

Read More

1990 - CMN HOSPITALS' RADIOTHON PROGRAM IS EXPANDED

Active listening: life insurance provider Foresters helps expand and enhance CMN Hospitals' Radiothon program across the U.S. and Canada. To-date, Foresters' underwriting support has helped generate more than $529 million thanks to the commitment of 300 partner stations and their supportive listeners

Read More

1991 - CMN HOSPITALS SURPASSES $100 MILLION IN DONATIONS

Children's Miracle Network Hospitals surpasses $100 million in total donations and takes on a new partner, Ace Hardware. To date, they have raised nearly $50 million thanks to the Ace Hardware Foundation and its commitment to giving back to the communities they serve.

Read More

1991 - DANCE MARATHON PROGRAM LAUNCHES

Dance Marathon program launches at Indiana University to honor child AIDS victim Ryan White. Dance Marathon eventually becomes a nationwide movement of more than 250 colleges and high schools that have raised $62 million+ for Children's Miracle Network Hospitals in their community.

Read More

1992 - CMN HOSPITALS PARTNERS WITH RE/MAX

CMN Hospitals partners with RE/MAX to launch the Miracle Home program. Now in its 22nd year, the program has raised more than $128 million thanks to year-round donations from "Miracle Agents" across North America giving back with each real estate transaction.

Read More

1994 - RITE AID JOINS FORCES WITH CMN HOSPITALS

Rite Aid joins forces with CMN Hospitals. In 18 years, Rite Aid has raised more than $56 million for Children's Miracle Network Hospitals—that equates to more than 16 million boxes of Band-Aids!

Read More

1996 - THE CHAMPIONS PROGRAM IS CREATED

The Champions program is created, selecting children based on their courage and perseverance, to act as ambassadors to help raise awareness for the millions of kids treated annually at Children's Miracle Network Hospitals.

Read More

1996 - CREDIT UNIONS FOR KIDS

Credit Unions for Kids, a collaborative effort among America's credit unions, hit a major milestone in 2011 when they reached $100 million raised for CMN Hospitals since 1996—proof that spare change really can change a child's life!

Read More

1998 - DELTA AIR LINES

A partner since 1998, Delta Air Lines is now in its second year as the official sponsor of our Champions program. This fall, 56 remarkable kids treated at member hospitals will travel to Florida and Washington, D.C. to highlight the vital work of children's hospitals.

Read More

2001 - MIRACLES DIRECT IS LAUNCHED

Miracles direct: Children's Miracle Network Hospitals launches a turnkey direct mail program that's used today by more than 70 member hospitals. In just over a decade, the program has helped raise more than $47 million nationwide.

Read More

2006 - DR. PAUL A. OFFIT DEVELOPS VACCINE AGAINST ROTAVIRUS

Read More

2006 - NATIONAL PANCAKE DAY

Behold the power of pancakes! IHOP serves up its first National Pancake Day for suggested donations to local CMN Hospitals and other charities. The annual event has raised more than $13 million and satisfied countrywide pancake cravings.

Read More

2007 - MISS AMERICA ORGANIZATION

Children's Miracle Network Hospitals becomes the official national platform of the Miss America Organization. The partnership extends to women competing at all pageant levels, asking each contestant to raise funds for their hospital and the Miss America Scholarship Fund. The result is more than $8 million to-date, with the reigning Miss America serving as CMN Hospitals' Goodwill Ambassador all along the way.

Read More

2008 - EXTRA LIFE

Jeromy Adams, a radio DJ and video game blogger working on a Children's Miracle Network Hospitals Radiothon in Houston, meets and is inspired by game-loving leukemia patient Victoria Enmon. In an effort to honor her after she lost her cancer battle, Jeromy realizes gamers want to support kids like Tori and the Extra Life program is born. Since its inception, Extra Life has grown over 1,900% and in 2012 the program raised $2 million.

Read More

2009 - MIRACLE JEANS DAY IS CREATED

Inspired by BC Children's Hospital Foundation's "Jeans Day", Miracle Jeans Day is created as a one-day event where individuals or groups can wear jeans to work in exchange for a minimum donation of just $5 to support Children's Miracle Network Hospitals.

Read More

2009 - JUSTIN BIEBER PERFORMS AT A SPECIAL EVENT

Just before Justin Bieber releases his debut album "My World," he performs at a special event in New York City benefitting member hospitals in New York. A portion of the proceeds from his album "My Worlds Acoustic" is donated to Children's Miracle Network Hospitals.

Read More

2009 - CMN HOSPITALS PARTNERS WITH FOX

Seeing is believing in miracles. Children's Miracle Network Hospitals partners with Fox owned and operated stationsto tell the stories of member hospitals across the U.S. Today, you can find Hospital Heroes segments airing regularly in 18 major markets. Each segment profiles Miracle Children and those who help them survive and thrive.

Read More

2011 - THE CHILDREN'S MIRACLE NETWORK HOSPITAL IS UPDATED

The word "Hospitals" was added to our name to emphasize who we are and what we're supporting. The Children's Miracle Network Hospitals logo is also updated to reflect the happy, hopeful and cheerful personality of our new brand.

Read More

2012 - CHAMPIONS MEET BARACK OBAMA, HILLARY CLINTON AND MORE

As official ambassadors and spokespeople for their hospital and state, Champions traditionally meet with the sitting U.S. president during a scheduled visit including this one with Barack Obama. Bill and Hillary Clinton, George W. and Laura Bush have all welcomed and applauded the hundreds of Champions who've walked through the White House halls since 1996.

Read More

2012 - U.S. NEWS RECOGNIZED 12 CHILDREN'S HOSPITALS

The U.S. News Best Children's Hospitals 2012-13 edition recognized 12 children's hospitals for high scores in at least three specialties. All 12 'Honor Roll' hospitals are Children's Miracle Network Hospitals members. This same year, Children's Miracle Network Hospitals also sets a Billion Dollar Goal, committing to quadruple its annual fundraising for member hospitals by 2022, and we're well on our way to helping children's hospital drastically transform the care they are able to provide!

Read More

2013 - LADY ANTEBELLUM ANNOUNCES CMN HOSPITALS AT LADYAID™

GRAMMY winning trio Lady Antebellum announces Children's Miracle Network Hospitals as the national charity for their charitable initiative called LadyAID™. Fundraising efforts include a 2013 Ping Pong & Songs event, a take on the band's favorite backstage hobby.

Read More

2013 - CMN HOSPITALS CELEBRATES RAISING OVER $300 MILLION

Children's Miracle Network Hospitals celebrates another record year in fundraising, reaching $300,784,420 raised in 2012 for its 170 member hospitals. CEO, John Lauck makes good on his promise to shave his head if the organization surpassed the $300 million milestone.

Read More

2013 - CMN Hospitals Celebrates 30th Anniversary

The Empire State Building in New York City was lit Yellow and red to Celebrate CMN Hospitals' 30th Anniversary.

Read More

2014 - Disney Princess Half Marathon

Children's Miracle Network Hospitals got to meet thousands of princesses (and quite a few princes) at the Disney Princess Half Marathon, held at the Walt Disney World Resort.

Read More

2014 - U.S. News Recognizes 55 Children's Hospitals

The magazine ranked 89 hospitals total and recognized 10 that had high scores in at least three specialties, all of which are members of Children's Miracle Network Hospitals.

Read More

2014 - New Fundraising Milestone Reached

More than $5 billion raised for children's hospitals since 1983 — raised mainly a dollar at a time.

Read More

2015 - Jennifer Lopez Becomes CMN Hospitals Official Spokesperson

Children's Miracle Network Hospitals announced mom, actress and singer as Official Spokesperson in the Put Your Money Where the Miracles Are campaign.  Check out our promo video here.

Read More

2015 - Miracle Kid Jessica Interviews Celebrities at the Pixels Movie Premiere in New York City

Read More

2016 - Miracle Kid Maverick Meets Hero at Fenway

Read More

2016 - Child Health Day Takes Place at More Than 100 College Campuses

Dance Marathon hosted the inaugural Child Health Day where programs held awareness campaigns on social media and across campus to share the charitable need of children's hospitals.

Read More

2016 - Dance Marathon Celebrates 25-Year Anniversary

Since 1991, Dance Marathon has raised more than $150 million for children's hospitals across the United States and Canada.

Read More

2017 - CMN Hospitals Hosts Inaugural Children's Hospitals Week

The week of March 20-27 marked the first Children's Hospitals Week — geared towards raising awareness and funds for children's hospitals, the week was celebrated throughout entire Network. Learn More Here

Read More

2017 - CMN Hospitals Stream Champion Medals Ceremony in Facebook LIVE-athon

Using new the new "Live and Donate" function on Facebook, CMN Hospitals went LIVE during their annual Champions Medal ceremony hosted during Momentum in Orlando, Fla. Watch the event here