CEFCO Convenience Stores raises $400,000 to help make miracles for 16 CMN Hospitals!

CEFCO Convenience Stores presented Children's Miracle Network Hospitals representatives with a check for $400,000 on Monday. The funds will benefit:
Baylor Scott & White McLane Children's Medical Center
Dell Children's Medical Center of Central Texas
Cook Children's Medical Center
Harrington Cancer and Health Foundation
United Regional Health Care System
Medical Center Health System Foundation
Hendrick Children's Hospital
UMC Children's Hospital
Children's Health
CHRISTUS Shreveport-Bossier Health System
Arkansas Children's
CHRISTUS Trinity Mother Frances Health System
Batson Children`s Hospital at the University of Mississippi Medical Center
Le Bonheur Children's Hospital
USA Health Children's & Women's Hospital
The Studer Family Children's Hospital at Sacred Heart
The generous donation comes from CEFCO's annual 2020 campaign that ran from September 21, 2020 through October 30, 2020.
In 2020, CEFCO and CMN Hospitals celebrated 21 years of partnership. Since 1999, CEFCO has been serving the children of its community by raising more than $5 million for local Children's Miracle Network Hospitals located in Texas and other southern states.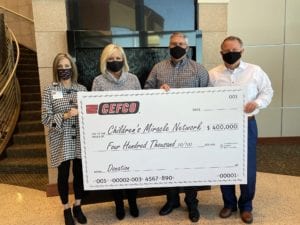 About CEFCO Convenience Stores
Temple, TX-based CEFCO Convenience Stores is in the top 50 largest chains in the convenience retailing industry, operating over 200 stores in Texas, Alabama, Mississippi, Louisiana, Arkansas, and Florida, employing more than 2500 team members, chain-wide. Since 1979, CEFCO has been committed to providing the best customer experience, every customer, every day, in every store.
Contact:
Reagan Francis
Brand Manager – CEFCO Convenience Stores
254-791-0009
rfrancis@cefcostores.com