University of Toledo Senior Receives 2017 Miracle Network Dance Marathon Distinguished Leadership Award
From the thousands of graduating seniors who have participated in Miracle Network Dance Marathon at the approximately 300 colleges and universities across the U.S. and Canada, twenty students were selected to receive the 2017 Miracle Network Dance Marathon Distinguished Leadership Award for making an exceptional impact within their Dance Marathon program, on their individual campus and for their local Children's Miracle Network Hospital. To see all of this year's recipients, click here. 

Dance Marathon Involvement:
Senior Year – Overall Director (main responsibilities included driving strategy, member development, fostering relationships with university faculty and staff, developing processes and procedures, and measuring/tracking success)
Junior Year – External Director (lead recruitment, public relations, athletic relations, faculty/staff/alum relations, and planned our Miracle Banquet and silent auction event)
Sophomore Year – Public Relations Chair (ran social media accounts, created all graphics and video, designed our current dance marathon logo)
Freshman Year – Committee Member on the Mini Marathon team
Campus/Community Involvement:
Delta Delta Delta Sorority – Served as Collegiate Chapter President (2016), Philanthropy Chair (2015), Vice President of Public Relations (2014)
Order of Omega National Honors Society
Lambda Sigma National Honors Society
Student Wellness Awareness Team
Awards/Recognition: Graduating Cum Laude (3.5 gpa)
Post-Graduation Plans: Starting in July, I will be working full time as a Sales Representative for Hilti North America. Hilti is a construction solutions company with a lot of opportunity for leadership development and growth. I hope to be in a leadership role with the company within the next two years. Later in my life, I see myself starting a Benefit Corporation or non-profit organization. My ultimate goals in life are to empower women, encourage adventure, and make a difference in the world.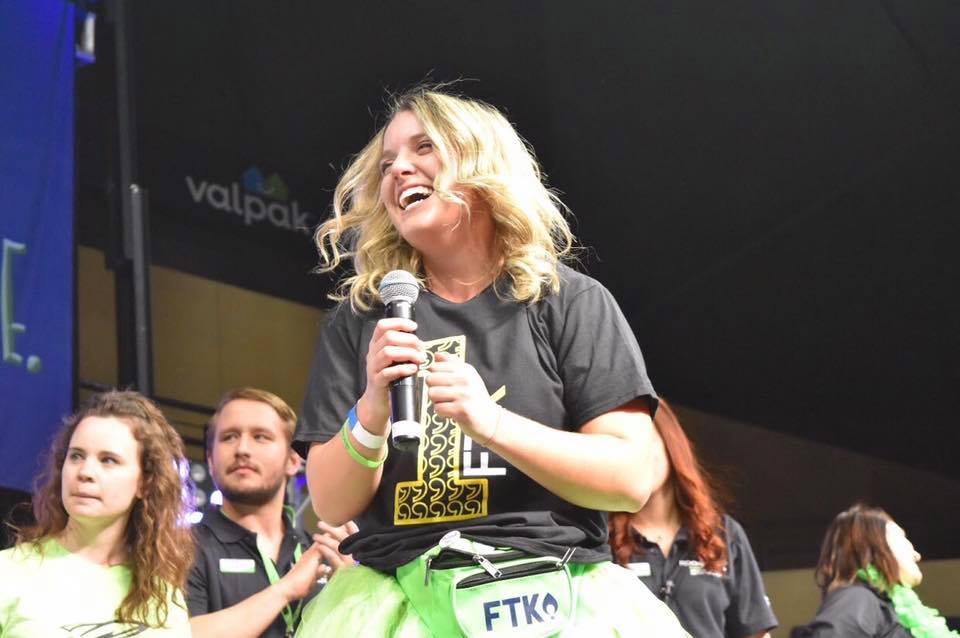 What personal accomplishment/contribution are you most proud of from your involvement in Dance Marathon?
It has been an incredible honor to serve as RockeTHON's Overall Director. One of my main goals I had this year was to increase member development in our organization. Although our team of 35 Executive Board members has always been strong, there were many holes in our committee program. The year previous, our committee retention was only about 30%. I realized that in the past, we never valued our committee members or gave them an experience worth staying for. With that in mind, I completely reenergized our committee program, starting with our selection process and ending with the final ceremony at RockeTHON. We added a 15-minute interview to the selection process, rather than just an application. To welcome the members onto our team, we hand delivered all 72 members a card with a 'FTK' (For The Kids) button on it. When planning the committee meetings throughout the year, I focused on programing that added value for them (team bonding, education, public speaking opportunities), rather than just what they could give us. With everything we did, my goal was to make the committee members feel a part of the RockeTHON family. On the morning of our dance marathon, we created a new team tradition that included our committee members (rather than just the exec board), and we also recognized the committee team in our final ceremony for the first time. Our committee team ended up raising over $14,000 for the kids (the highest ever raised), and we ended with over 80% retention. Although we still have a long way to go, I am extremely proud of the foundation I laid this year for our member development program.
My proudest moment, however, was when I received an email from a student who writes for our university's newspaper that said:
"I am truly in awe of your organization and the passion I see them exhibit. I don't think there is a more dedicated group of students on our campus than the RockeTHON team. You guys make us all proud to be Rockets!"
The compliment was simple, but it was the moment I realized that the amount of money we raise is just one success measure. This email proved to me that the hard work of my team was working, and that we had the ability to leave a lasting impact on our campus and community, simply through our passion. This is when I knew I succeeded.
How has Dance Marathon impacted you as a student leader? What specific skills have you developed during your involvement?
Joining RockeTHON was the best decision that I made in my college career. Because of my leadership experience in RockeTHON, I now feel empowered to accomplish anything in my professional career. My aspirations for my future have grown exponentially since being involved in this organization and I have learned so much. In my earlier years in the organization, I learned graphic design, public relations, event planning, and marketing. This past year as Overall Director, I have gained invaluable skills in leadership and management. I now feel confident in my skills to manage conflict, solve problems, and inspire action. Furthermore, it is because of Dance Marathon that I know I will be involved with philanthropy and volunteer work for the rest of my life. Dance Marathon has changed the course of my life and I couldn't be more grateful.
Why do you, personally, participate in Dance Marathon?
Over three years ago now, I met Mauda-kae and Kim Morris and my life hasn't been the same since. Mauda-kae is a local Miracle Child in the Toledo area who suffers from Fetal Alcohol Syndrome and Kim is her adoptive mother. This mother and daughter are two of the most extraordinary people I have ever met in my life; Mauda-kae, being the strongest person I have ever met, and Kim, being the most selfless person I have ever met. Mauda-kae needs 24-hour monitoring because of her seizures and other medical conditions. Kim has dedicated her own life to making sure that Mauda-kae lives as comfortably and happy as possible. Even though Mauda-kae and Kim go through things on a daily basis that most of us couldn't dream of, they are the first people to show concern and care for others. If Mauda-kae and Kim can go through each day with a smile on their face, then it is the least I can do to try and make life a little easier for them and other Miracle Families I have had the honor of meeting.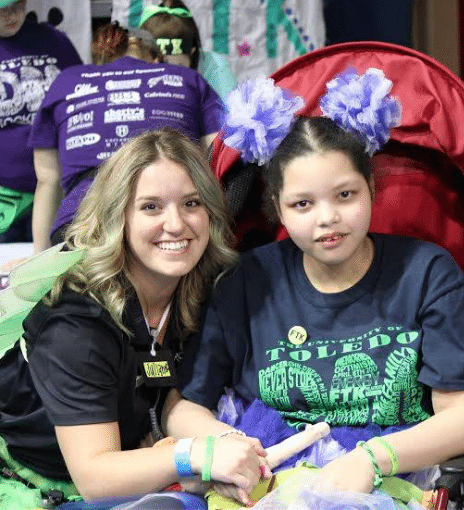 Why should students get involved with Miracle Network Dance Marathon on their campus?
When students first join the RockeTHON team, even as a committee member, we promise to give them a dynamic experience; our goal is to give every student that is involved with RockeTHON a chance to develop leadership skills, create lifelong friendships, and find a way to give back to our community. Our 13-hour dance marathon is a magical day because our team members and dancers are able to meet the Miracle Children that they are directly helping. Our dance marathon gives these Miracle Children one day out of the year where they can just be a kid and our movement saves lives.
Why should people donate to their local Children's Miracle Network Hospitals?
Children's Miracle Network is the greatest cause I know. Toledo's CMN hospital, Mercy Children's Hospital, creates miracles in our local community every single day. Through Dance Marathon, I have had the incredible opportunity of meeting some of the Miracle Families who have been impacted by what we do. Their stories of pain, strength, and hope are what inspire me to continue supporting CMN. The more we work to spread awareness and raise funds, the more miracles we can create for local children in our community in the future.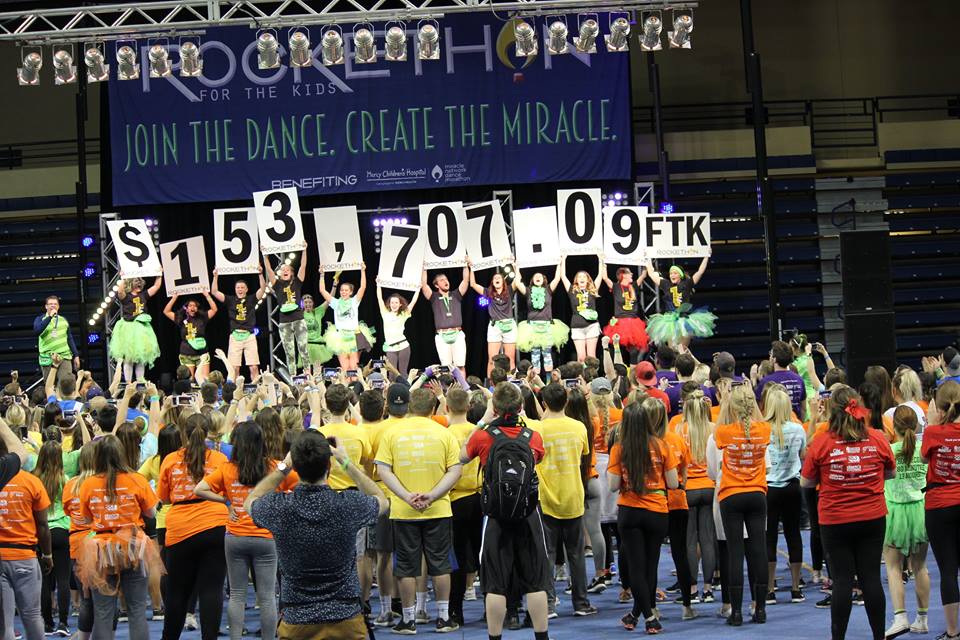 ---
Miracle Network Dance Marathon is an international movement, involving over 300 colleges and universities across North America that fundraise for their local Children's Miracle Network Hospitals. Since its inception in 1991, Miracle Network Dance Marathon has raised more than $180 million–ensuring that no child or family fights pediatric illness or injury alone.
Learn more about Miracle Network Dance Marathon: