Take the Lead: Philanthropic Giving Simplified – Big Gifts Foster Big Change

Take the Lead is a new blog series from Teri Nestel, president and CEO of Children's Miracle Network Hospitals. In this leadership-focused series, Teri will share her insights and leadership lessons alike.
Last summer, amid the pandemic, 78% of member CMN Hospitals surveyed were losing more than $7.5 million per month in revenue. Similarly, at the time, 67% of hospitals surveyed also indicated that they will not be able to meet their needs in the next year without increases in donations. Today, while brighter days appear to be in the future, it's evident that there is a long road ahead to best serving community health.
Philanthropic giving opens an opportunity to hospitals and healthcare systems ten-fold. While some reasons for giving are evident, others are more abstract. Yet both are critical to providing quality, inclusive and accessible care for our future generations.
A recent conversation with UC Davis Children's Hospital shed light on pioneering research & project development that resulted from unrestricted philanthropic funds by CMN Hospitals.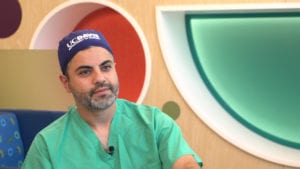 Dr. Payam Saadai is a pediatric surgeon who specializes in pediatric colorectal disorders at UC Davis Children's Hospital, one of the 170 member hospitals within our nonprofit. He and his team recently uncovered a medical discovery for Hirschsprung's Disease that would simplify a currently complicated diagnostic test to a rapid test with minimal human intervention. (In summation, a short and less-invasive diagnostic test.)
Throughout the conversation, these three purposes for philanthropic giving were consistently emphasized.
Philanthropy allows for flexibility based on the hospital's most urgent needs.
2020 proved this to be in tune with today's logic more than ever. New protocols were mandated across hospitals, creating the need for educational training and specific equipment. Mental health developments continue to be an area of research & discovery and required at a rapid rate. While these are critical areas of need during a pandemic, the shift can unfortunately slow research & development for other diseases despite the unchanged need.
Those who are uninsured need help now more than ever.
A study by the Georgetown University Health Policy Institute Center for Children and Families found that children's uninsured rate rose from historic lows of 4.7 percent in 2016 to 5.7 percent in 2019 with that number likely even higher in 2020 due to job losses during the pandemic. This translates to 726,000 more children without health insurance with 1/3 of the total increase occurring in Texas, and 29 states experiencing increases overall, and the total uninsured children in the US at over 4.3 million. Philanthropic giving helps fund this gap to ensure all children have access to quality healthcare.
Philanthropy can fund innovations that will transform the space.
Less common diseases shouldn't receive less funding, but that is the current reality. Dr. Saadai and his team's work wouldn't have been possible without additional fundraising dollars provided by philanthropic giving. And UC Davis Children's Hospital is one of many hospitals determined to better kids' health: 3D models are being used to practice complex surgeries before walking into the operating room to be more prepared and shorten surgery time for children at Boston Children's Hospital, apps to enable parents to stay in constant contact with their premature newborns in the Ann and Robert H. Lurie Children's Hospital NICU are just a few of the inspirational, lifechanging innovations happening before us. 
Simply put, philanthropic giving continues to emerge as a significant means for hospitals and healthcare systems to fund a myriad of issues that fall outside of current funding. According to the industry renowned Blackbaud Report, while healthcare didn't experience the rate of increases in giving that other areas such as human services experienced in 2020, the healthcare subsector did achieve 11.7% growth and a 21.1% increase in online giving when looking at the last three years and has remained stable in overall giving at an 0.8% growth over that same time period despite a -2.1 decrease in 2020.
We're on the right path toward advancing children's healthcare, just dusting ourselves off from 2020 to continue ahead.