Thank you for raising $2.53 million Love's Travel Stops!
From August 26 to September 30, Love's Travel Stops store employees came together for the 18th annual companywide campaign to raise funds for Children's Miracle Network Hospitals. Love's customers and employees at more than 390 stores in 40 states raised $2.53 million–smashing the campaign goal of $2.3 million.
"We're so thankful for our employees who set the bar higher every year, and for our customers who repeatedly support us," said Jenny Love Meyer, vice president of communications for Love's. "Every year, our employees continue to outdo themselves and our loyal customers show more goodwill to help children in their communities. The level of passion everyone demonstrates for this cause is inspiring."
During the five-week campaign, Love's team members sold CMN Hospitals' Miracle Balloons for donations and organized numerous events like 5K runs, rummage sales, cookouts, wrestling tournaments, pet contests, skateboard tournaments and more.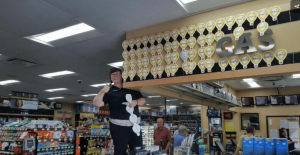 Love's showed additional support for CMN Hospitals this year by donating two days' worth of coffee sales to the nonprofit in honor of National Coffee Day. On September 29-30, $1 of every 24 oz. coffee or cappuccino sold at all Love's locations went to the Children's Miracle Network Hospital in that community.
Of the 170 CMN Hospital members throughout North America, 99 benefit from Love's annual campaign.
Thank you for all the love Love's!