Duracell, Star Wars and Children's Miracle Network Hospitals Celebrate the Power of Play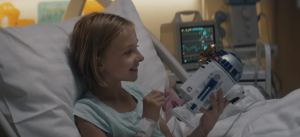 Duracell today announced a donation of 1 million batteries to 147 Children's Miracle Network Hospitals across the U.S. and released a Star Wars-themed commercial to celebrate the donation.
The donated batteries will power toys for children to play with during their hospital stay. Programs like play are outside of typical medical treatments and almost always funded by the generous contributions of individual and corporate donors. These programs go a long way in facilitating healing.
"Tapping into our imaginations during the healing and recovery process reduces stress, pain and anxiety," said Dr. Charlotte Reznick, Ph.D., an internationally recognized child educational psychologist, former UCLA associate clinical professor of psychology, and author of the Los Angeles Times best-selling book, "The Power of Your Child's Imagination." "I'm delighted that Duracell has embraced the fact that letting kids be kids through imaginative play is healthy – mentally, emotionally and physically.
In the all-new 60-second commercial, young patients engage in an epic Star Wars duel while delivering a battery-powered toy to another patient's hospital room. Watch the video below.
To make a donation your local Children's Miracle Network Hospital, simply click here or click the "Donate" button at the top of  your screen. Canada residents can donate here.