PhiDE FL Gamma Stands for the Kids!
This post was submitted by Taylor Lindstrom for Children's Miracle Network Hospitals through childrensmiraclenetworkhospitals.org/guest-post. 
On October 17, 2018, the chapters of Phi Delta Epsilon International Medical Fraternity held their annual Stand for the Kids philanthropy event. On this day, every chapter held a local fundraiser for their local Children's Miracle Network Hospital. At the University of Miami, the Florida Gamma Chapter set a goal of $10,000.
Held on the "University Green", the students sold a variety of food items donated by local sponsors including "EVOS Feel Great Food", "The Halal Guys", and "Mojo Donuts". Gift cards and certificates were also raffled off from "Jeremiah's Ice", "Greenstreet Café", "American Social: Restaurant & Bar", "My Ceviche", "The Salty Donut", and the "Herbert Wellness Center". In addition to these generous donations, the University provided funding for an inflatable obstacle course where students would compete for the fastest time of the day. These, along with a sponsorship from the University's Association of Greek Letter Organizations, were instrumental in the success of the chapter's fundraiser.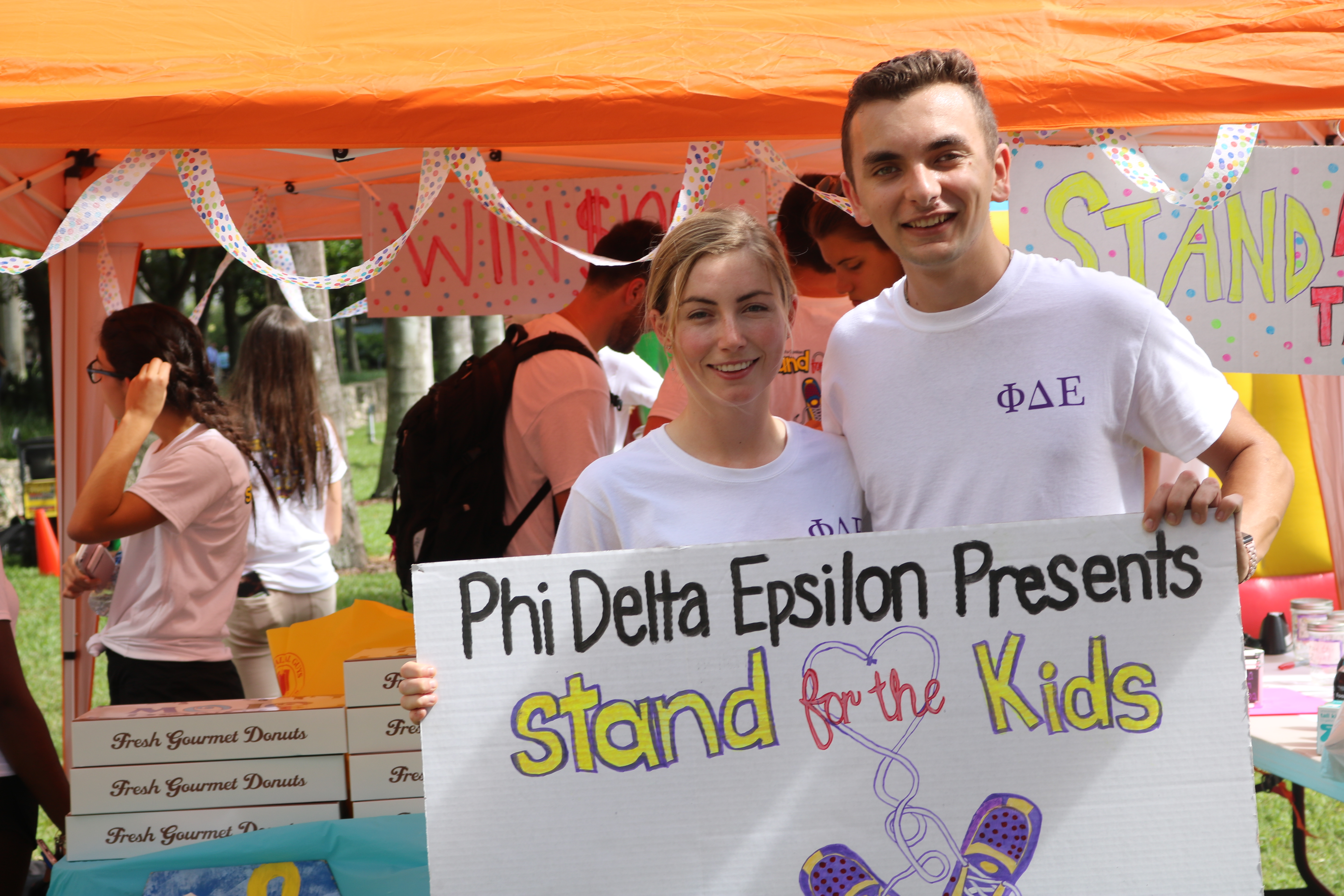 To attract students to their event, the chapter's treasurer, Michael Huzior (pictured above, right), and his committee worked hard to find popular sponsors, create well-designed fliers, and post often on social media. The most fun they had, however, was in creating their '90's themed decorations and giveaways. By offering free "RingPops" and "slime-balls" along with having their members getting "pied in the face", there was constant excitement in the area.
The chapter's efforts come from an emphasis on their first guiding principle: philanthropy. Each member has their own fundraising page in which they can encourage family and friends to donate to their cause. With semesterly visits to their local children's hospital, the members remain motivated to do whatever it takes to help the kids in their community. Through this fundraising platform, the students had a competition to see which class would raise the most money, to which the seniors proved victorious.
"Every single member had a role in our success. I honestly cannot put into words how proud I am of everybody. Undoubtedly the most fun I have had in college. It will really be bittersweet to graduate this winter… really going to miss everybody," said Pedro Diaz, president of the chapter. This collective effort that he spoke about led the chapter to exceed their goal, raising $12,000 this fall, and over $20,000 for CMN Hospitals in 2018!