Seattle Children's Hospital Awarded Hospital/Foundation of the Year
Children's Miracle Network Hospitals Awards Seattle Children's with Hospital/Foundation of the Year Award at Annual Fall Business Meeting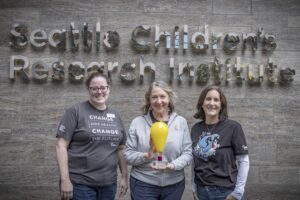 Grown from humble beginnings in 1988, when fundraising totaled just $23,000 to a record-breaking year reaching over $7 Million, the small but mighty team at Seattle Children's Hospital brings over 35 years of combined experience to their work each day.
Collectively, the team has had many accomplishments.  Before Costco became one of CMN Hospitals top partners, they were brought on board by the team at Seattle Children's. They were also one of the first teams to host an in-person all partner kickoff.  In 2021 they quickly pivoted this event to a virtual kickoff with the majority of their partners in attendance in addition to CMN Hospitals staff and peers across the network.
Individually, they each bring their unique talents to the team to make an impact. Kira Haller, who joined the team in 2000 and started with the hospital as a Child Life Specialist in 1995, is always the first to pitch in with anything CMN Hospitals related.  Whether it's engaging a new partner, program, or event Kira is there to help grow the network. Kira also leads the Mediathon for Seattle Children's that raises over half a million annually.
Betsy Rand has been instrumental in the growth of Seattle Children's Extra Life program. From overseeing a record $1.7 million fundraising total representing a 19% increase year over year, to fostering a relationship with Wizards of the Coast to ensure they understand their impact on our mission through Extra Life. Supporting Seattle children's is a family affair for Betsy with all three daughters having been or currently members of the Lemon Drop Junior Guild.
Erin Moore works with partners such as Rite Aid, Marriott, Love's and ACE which has grown their fundraising to over $300k per year. She is always the first to steward and recognize partners to grow their fundraising and involvement with the hospital, whether it's through the Ride Aid grant process, ACE Bucket Days or online fundraising for her Dance Marathon events.
Together, the team at Seattle Children's Hospital is changing kids' health to change the future. Congratulations!