Children's Miracle Network Hospitals Awards Program Director of the Year
Colette Forcier of Kapi'olani Medical Center for Women and Children, Named CMN Hospitals Program Director of the Year at Annual Fall Business Meeting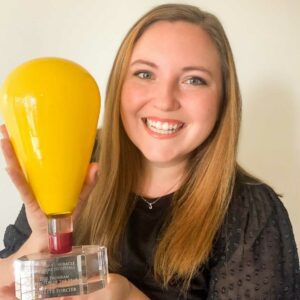 The Program Director of the Year Award, presented by McLane, recognizes a Program Director who exhibits selfless and heartfelt service, commitment, and dedication. The award is presented to an individual whose accomplishments, ongoing efforts, and overall service reflect a passion that kids truly come first. As the sponsor of the Program Directory of the Year Award, McLane continues its commitment to children's hospitals and those who help make miracles happen by donating $10,000 in the name of the recipient to their member hospital.
This year's Program Director of the Year is awarded to Colette Forcier from Kapi'olaniMedical Center for Women and Children in Honolulu, Hawaii.
Despite the challenges our hospitals faced due to the Covid-19 pandemic, Colette has kept her fundraising growing and partners involved. Colette's personal engagement and relationships built with everyone from miracle families to front-end store associates is the driving force behind her success. Through meaningful interactions Colette is able to steward donors and connect them to our cause resulting in increased engagement and fundraising.
Colette uses her over 10 years of experience and knowledge to impact not only her market, but the entire network by mentoring incoming Program Directors, serving on the hospital task force, and is always the first to volunteer for any committee and provide her feedback and suggestions. Her dedication is at the core of everything she does. Colette's personal connection and relationship with the community, partners, and the network in addition to her demonstrated commitment to keep the kids first in everything she does has earned her the admiration and respect of all who have the honor to work with her.
Congratulations to Colette on being named Children's Miracle Network Hospitals Program Director of the Year!